Subscribe To Our Newsletter
Don't worry, we won't clog up your inbox.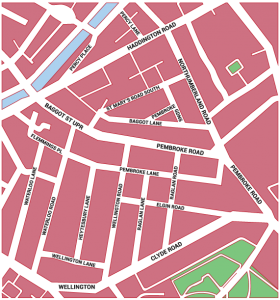 The Pembroke District was laid out over sixty years from 1808 and is a marvel of 19th century urban planning.  An innate sense of proportion exists in the layout of the grand terraces of Elgin, Clyde, Wellington, Waterloo, Raglan and Pembroke roads (later complemented by the addition of St. Mary's Road) and their attendant lanes.
The Pembroke Road Residents' Association was founded in 1974 by art historian, Seán O'Criodain, and has, over 40 years of voluntary work, promoted the preservation and improvement of the unique residential qualities of the Pembroke District.
The Association was originally established to fight the encroachment of unsuitable development and to maintain the scale and proportion of the streetscape and unique 19th century architectural details.  While this is still its primary aim, it has also achieved many improvements to the daily life of the residents of the Pembroke district: street lighting, on-street parking, litter collection, pedestrian crossings and improved care of the distinctive tree lined streets.
The Pembroke Road Residents' Association shows how a vigilant and committed pressure group can achieve results.